About Us
For great tasting and authentic food from the Mediterranean, Kebabjoint is the place to go. We grill all of our meat fresh every day and make your favorite menu items as you order them. You will find each dish accompanied by a healthy serving of vegetables, providing a well rounded meal. At Kebabjoint, we also have a number of tasty deserts on our menu that are sure to please. Try our berry smoothie the next time you are in for a special treat. We have a great dining atmosphere to boot.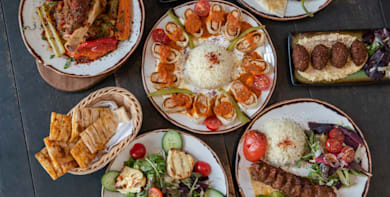 Reviews
Nakita
"My peta bread was burnt, hard and overcooked. Couldn't eat the bread as makes my jaws hurt when eating. Lamb and chips with cheese was just good and flavoured"
20/10/2021
dezi
"Happy with the delivery"
16/09/2021
Zachary
"Great as always"
14/09/2021
Esther
"Will order again. Thank you and God bless🙏🇭🇲👍"
12/09/2021
Menu
Contact Us
Find Us
889 Springvale Road, Mulgrave, 3170
Opening Hours
Monday
10:30 AM - 9:30 PM
Tuesday
10:30 AM - 9:30 PM
Wednesday
10:30 AM - 9:30 PM
Thursday
10:30 AM - 10:30 PM
Friday
10:30 AM - 11:30 PM
Saturday
11:00 AM - 11:30 PM
Sunday
11:00 AM - 9:30 PM
Please note, delivery times may vary.
We deliver to
3148 Chadstone, 3149 Mount Waverley, 3150 Glen Waverley, 3150 Wheelers Hill, 3166 Huntingdale, 3166 Oakleigh, 3166 Oakleigh East, 3167 Oakleigh South, 3168 Clayton, 3168 Notting Hill, 3169 Clarinda, 3169 Clayton South, 3170 Mulgrave, 3171 Springvale, 3172 Dingley Village, 3172 Springvale South, 3173 Keysborough, 3174 Noble Park, 3174 Noble Park North, 3175 Dandenong, 3175 Dandenong North, 3178 Rowville, 3179 Scoresby, 3194 Moorabbin Airport, 3202 Heatherton